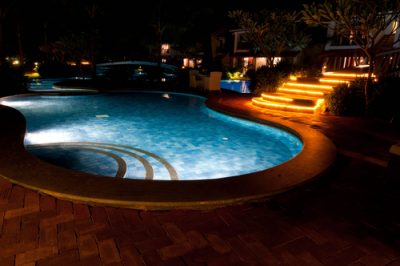 Nothing else enhances your garden or yard at night better than outdoor landscape lighting. It provides an ambient effect to trees, shrubs and flowers. North and West Valley landscape lighting also has a practical side. It is a great way to mark pathways or accent garden areas. Get the full use out of your garden, yard and patio areas by adding decorative landscape lighting to your outdoor spaces.
Outdoor or landscaped lighting provides an increase in safety, security, show cases the beautiful landscaped yard at night and provides ambiance. Landscape lighting allows you to enjoy your beautiful landscape and gardens at nighttime.
At Eavenson Electric Co., we want you love your landscape with well-lit landscape lighting. Our North Scottsdale and Glendale, AZ electricians are focused on getting the job done right the 1st time. The job is not done until you are 100% satisfied. We provide excellent customer service and striving to provide the best communication throughout your entire lighting control solutions project. Contact Eavenson Electric Co. today for all of your landscape lighting needs.
Our Landscape Lighting Provides the Following Services
Landscape Lighting
Outdoor Lighting
Exterior Lighting
Flood Lights

Solar Landscape Lights
Porch Lights
Garden Lights
Motion Lights

Security Lighting
Wiring Lights
Light Switch
Motion Sensor