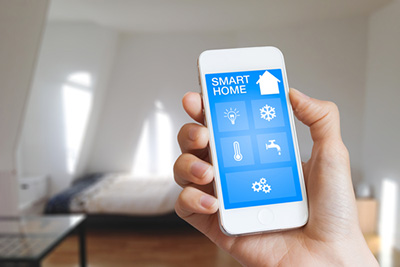 With the rise of home automation and the Internet of Things (IoT), smart switches in North Scottsdale and Glendale, AZ have become a cornerstone of smart homes. These switches can control your lighting and other connected amenities in new and exciting ways! But, to take advantage of them, they'll need proper installation.
Eavenson Electric Co. is familiar with smart switches and skilled at installing them. Let us help you take your home's lighting capabilities to a whole new level.
Complete Smart Switch Installation
There's more to a smart switch installation in North Scottsdale, AZ than swapping out your existing one. For starters, smart switches need a neutral wire. If your home doesn't have them running to each outlet you plan on replacing, you'll need an electrician's help. Also, these switches need proper load to function safely, which means checking your circuit.
Don't forget about setup! When it comes to controlling these switches and learning how to use them, you'll want an expert looking over your shoulder. That's why Eavenson Electric Co. offers complete smart switch installation services.
Benefits of Smart Switches
Why make smart switches part of your home? Not only are they convenient, they give you a wide range of capabilities when it comes to controlling the ambiance in your home. Take a look at some of the great benefits they offer as part of a connected home ecosystem:
App control capabilities
Dimming and brightness controls
Smart lightbulb compatibility
Power scheduling
Sensor integration
IoT integration
If you're planning on turning your home into a smart home, smart switches are a critical first step. And, they're an important part of building out your smart home ecosystem!
Enhance Your Switches
If you're interested in smart switches and want to make sure they're installed correctly, let Eavenson Electric Co. handle the job.
Contact us today at 623-428-1351 and we'll make sure your smart switches are well-wired and optimally functional.