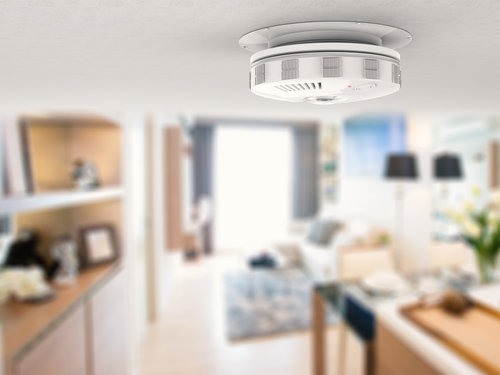 Carbon monoxide is an odorless, tasteless and colorless gas that can be present in your North and West Valley area home without you noticing it. This odorless gas kills more people annually in America than any other type of poisoning. The side effects of carbon monoxide poison act similar to flu-like symptoms, which makes this type of poisoning easily misdiagnosed or ignored.
You can protect you and your family from being exposed to carbon monoxide poisoning by having your combustible appliances serviced and checked regularly. Another critical step to prevent carbon monoxide poisoning is to have a North and West Valley electrician install Glendale carbon monoxide detectors in your home. This alarm is extremely beneficial because it warns of low-level accumulation of carbon monoxide which can prevent a more serious situation from developing
Smoke Detectors
A North and West Valley smoke alarm can save your life. You should have a professional North Scottsdale and Glendale, AZ electrician test your smoke detectors in your North and West Valley home at least once a month or few times a year. Your smoke alarm needs to be checked after a battery change to make sure that it is working properly because only a functional smoke detector will serve it's purpose. Eavenson Electric Co. can install, test, and replace the smoke detectors in your home so you can feel confident that you and your family will be prepared in case of a fire. Contact us today!
Our Carbon Monoxide & Smoke Detectors Provides the Following Services
Smoke Detector
Smoke Alarms
Residential Smoke Detector
Smoke Detector Installation

Replace Smoke Detector
Smoke Alarm Detectors
Smoke Detector Testing
Carbon Monoxide

Carbon Monoxide Testing
Residential Carbon Monoxide Testing
Carbon Monoxide Detector
Carbon Monoxide Sensor