Aluminum Wiring Rejuvenation in North & West Valley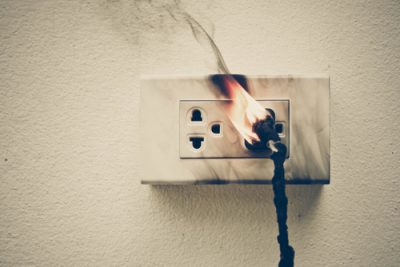 Aluminum wiring can be a fire hazard wherever the wire is spliced or makes a connection with an outlet, switch, circuit breaker or other component of an electrical system. Another reason aluminum wiring is such a fire hazard is because it shrinks and expands depending on the temperature. These changes to the aluminum wires can result in overheating, sparks and fires. Due to such safety risks, only copper wiring has been used for electrical systems since the late 1970s.
As a homeowner you have two options when it comes to aluminum wiring. The first option, most recommened, is to replace you aluminum wiring with cooper wiring. The second option is to rejuvenate the aluminum wiring connections.
Aluminum Wiring Replacement
Our Glendale electricians can replace your aluminum wiring with copper wiring through out your entire house. This is the most recommended because this is the safest approach. When we rewire your house we do it at your convenience. We will work room by room so you are not out of your house, and so your entire home is not out of power.
Aluminum Wiring Rejuvenation
This is the more cost effective way, but not as safe as rewiring with copper wiring. Aluminum wiring rejuvenation would entail installing a small piece of copper wire to the aluminum wire and terminate the copper wire portion of the cable to the device.
Aluminum wiring can create many headaches for homeowners nowadays, whether it is having to deal with insurance companies mandating it to be brought up to current safety standards, or having to deal with the continual burnouts and circuit failures. Eavenson Electric is here to help you. With out experience and knowledge we can inspect your home and bring it up to wiring standards. Our goal is to make your home safe today.
Call today for a free quote and consulation on your next aluminum wiring project.
Our Aluminum Wiring Replacement Provides the Following Services
Aluminum Wiring Rejuvenation
Aluminum Electrical Wiring
Aluminum House Wiring
Copper Wiring

Aluminum Wiring Replacement
Aluminum Wiring
Aluminum Wiring Repair
Anodized Aluminum Wire

Electrical Rewiring
Home Rewiring
Electrical Upgrades
Electrical Troubleshooting
If you are looking for aluminum wiring in the North and West Valley then please call 602-318-1164 | 623-428-1351 or complete our online request form.